New Year, new CPE standards.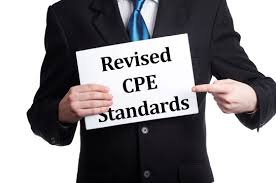 Many SimpleCert® customers use SimpleCert® to create CPE certificates for their attendees, so we wanted to inform you of new standards now posted on the NASBA website. Interested parties are encouraged to download the Standards and the Fields of Study documents, which can be found on this page.
REVISED STANDARDS APPROVED, EFFECTIVE DATE DECEMBER 31, 2019
NASBA and the AICPA approved the revisions to the Statement on Standards for Continuing Professional Education (CPE) Programs (Standards) during their respective October and November Board of Directors meetings.
In addition, the NASBA Board approved and the AICPA Board took a position of support on the revised NASBA Fields of Study document. The NASBA Fields of Study document is referenced in the Standards and provides guidance on the classification of CPE credits into acceptable subject matter areas.
The following documents are available for download: