Certificate of Completion Templates For Every Industry and Purpose
Certificates of completion play an important role in tracking an individual's progress at school, work or for a variety of other purposes. Schools, businesses and city governments all rely on polished and professional looking certificate of completion templates to lend credibility and certify authenticity.

Whether you need to create a certificate for students, workplace professionals or contractors, SimpleCert® has numerous certificate of completion templates to get the job done quickly and efficiently. Our certificate maker includes a vast online library of templates and thousands of design elements to choose from. Best of all? It's totally free to get started! 

Popular Ways To Use Our Certificate of Completion Templates:
Whether you need a premade template that's ready to go, or you want to design an entirely unique certificate of completion with your company's logo and brand elements, SimpleCert® has intuitive tools to make designing, sending and storing certificates… well, simple!

Here are a few of our most popular certificate of completion templates you can customize using our suite of design tools: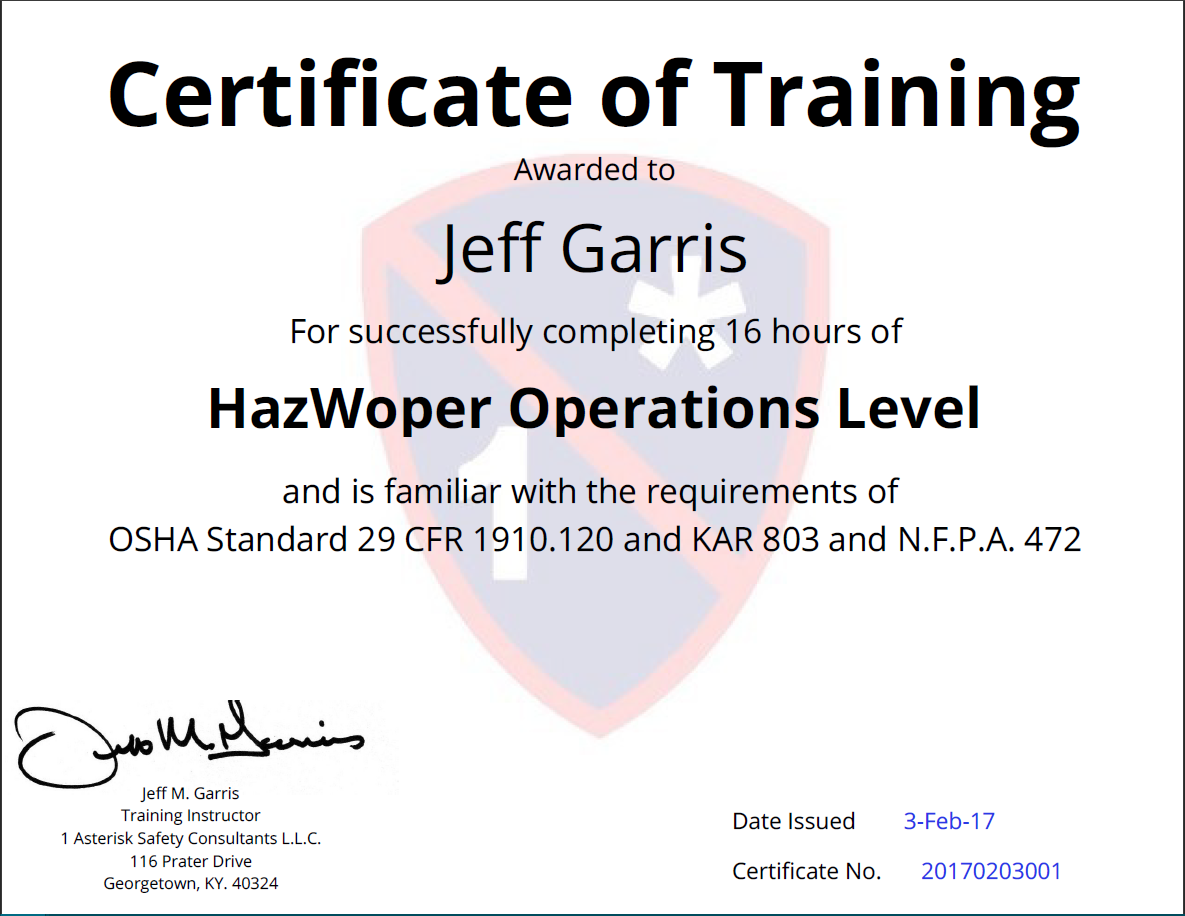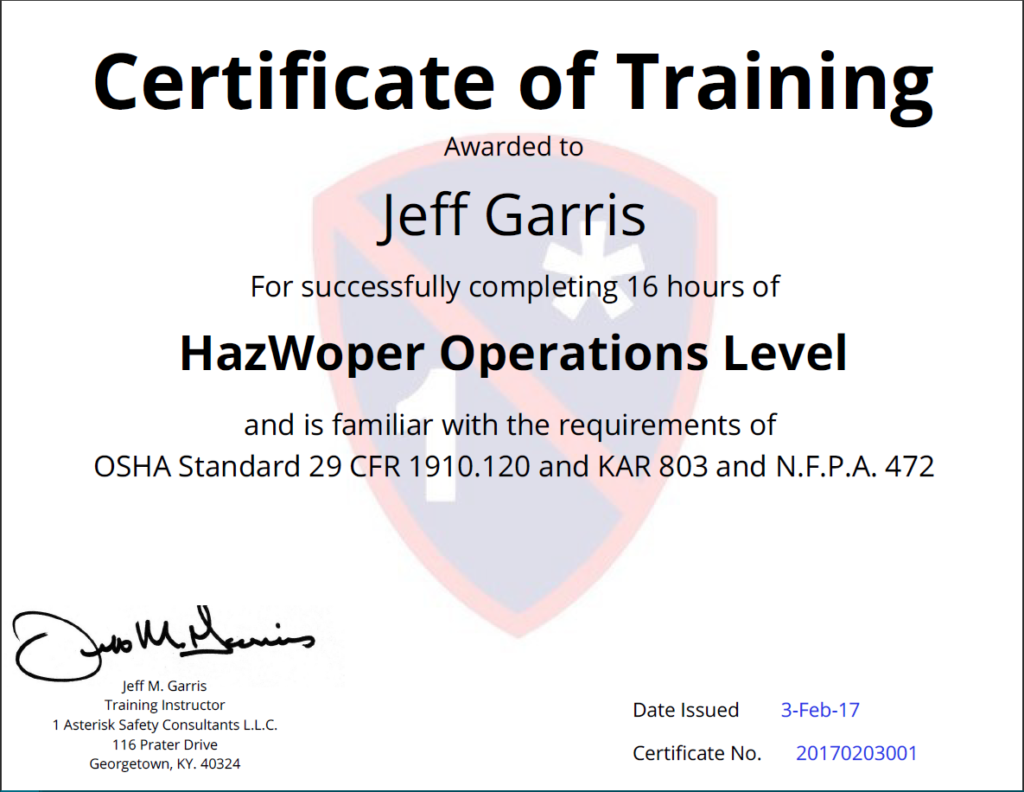 Workplace Safety Certificate Templates
Whether you need to certify a handful of employees or create workplace safety certificates for thousands of workers, SimpleCert®'s bulk certificate generator makes the task quick and easy.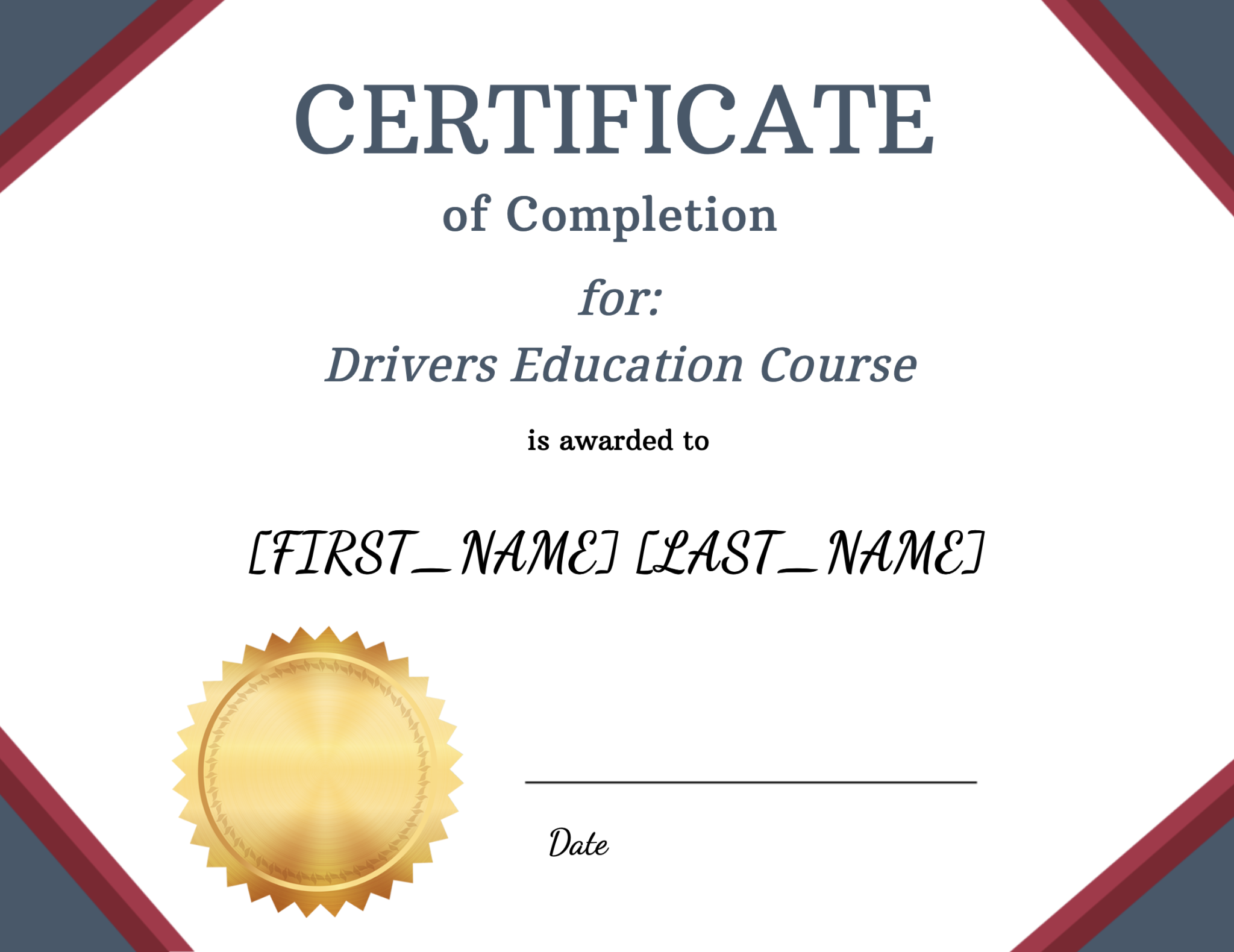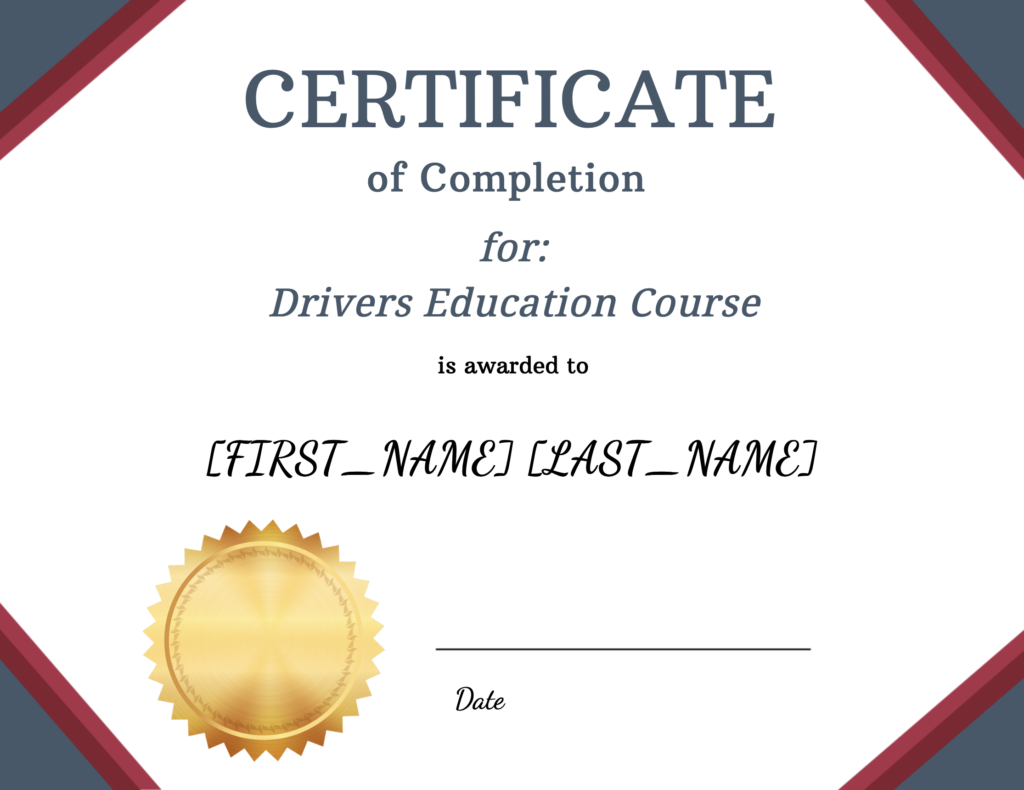 Drivers Ed Certificate of Completion
Use SimpleCert®'s drivers ed certificate of completion template to quickly and easily certify students who have completed their coursework. You can even brand the certificate to include the logo of your drivers ed school.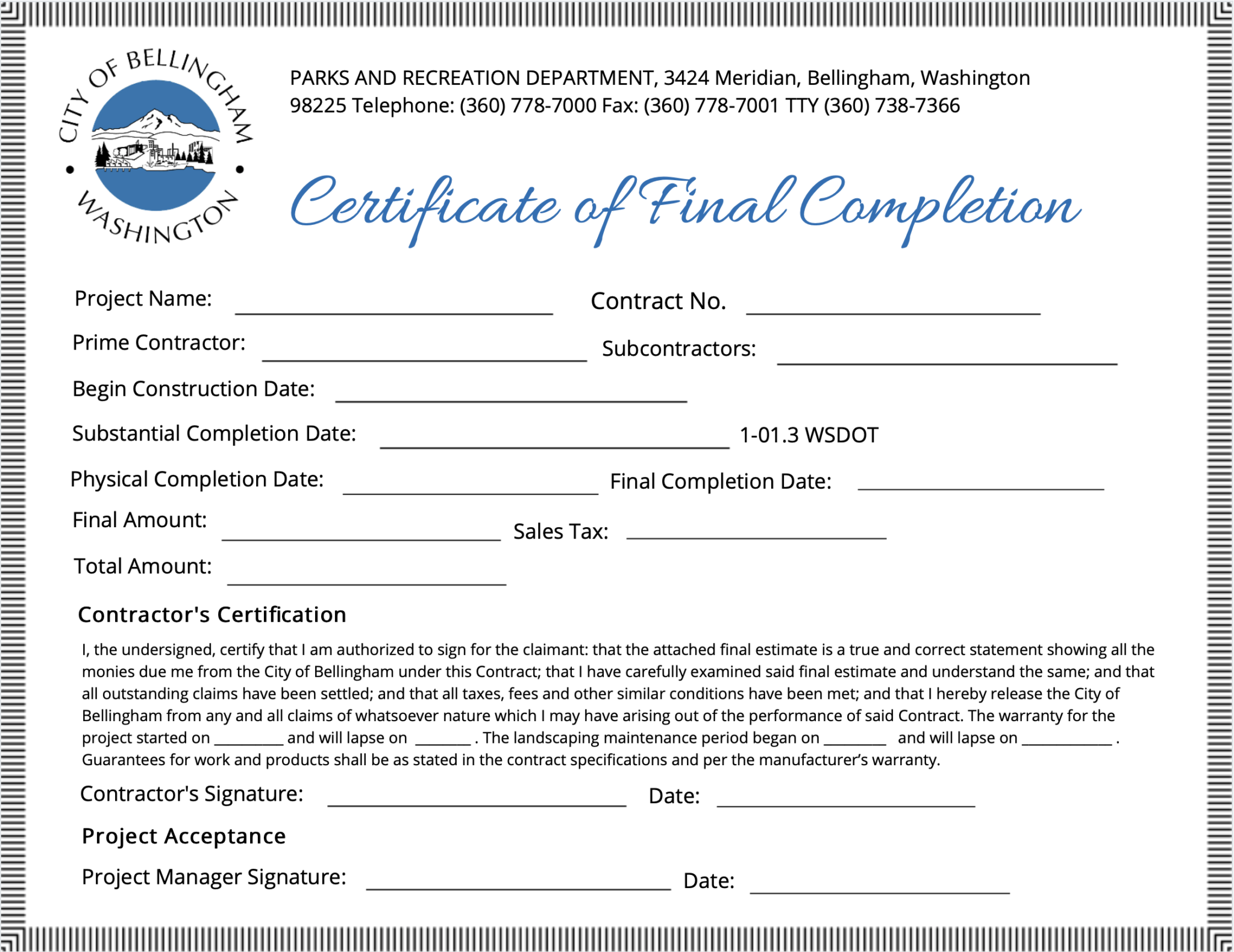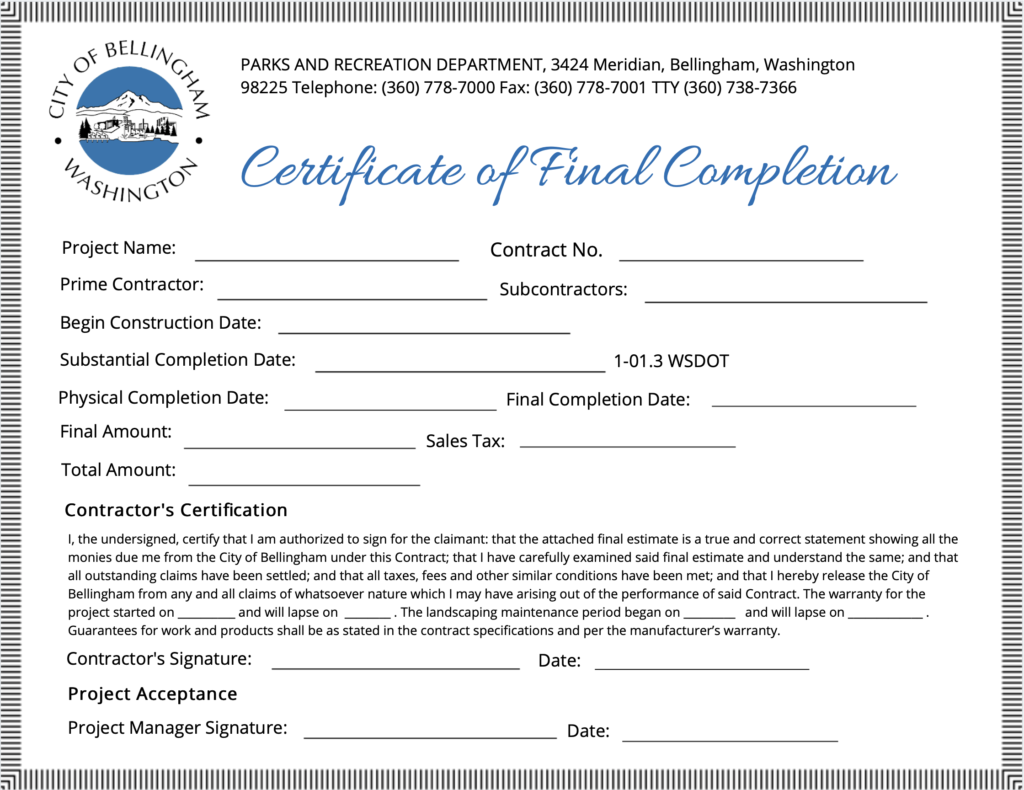 Certificate of Completion For Construction Projects (Certificate of Final Completion)
Use our Certificate of Final Completion template to certify that your construction contract has been fully completed. SimpleCert® makes it easy to add your company or city/municipality logo, project manager & contractor info, and other key project details.
SimpleCert® offers printable certificates of completion, or you can easily send your certificate via email using our online web portal. We also offer Zapier and Google Forms integrations to streamline the process of sending hundreds or thousands of certificates at once.
Certificate of Completion Templates For School, Work & More!
There are countless ways you can use SimpleCert® to create polished and professional certificates of completion that recipients will feel proud to receive. Whether you're an experienced designer or trying your hand at designing a certificate for the first time, our 100% browser-based certificate maker is easy and fun to use. You read that right: there's no software to install or difficult programs to learn!

To help jump-start your creative process, here are more ways that our community has used SimpleCert® to build, send and store certificates of completion:
Roofing certificate of completion
Certification of substantial completion
Contractor certificate of completion
Parenting class certificate of completion template
Kindergarten certificate of completion
Certificate of completion for insurance purposes
Completion of OSHA training
Certificate of completion for continuing education
Workplace seminar completion
Course of study completion certificate
Internship certificate of completion
Professional course completion certificate
Preschool diploma completion certificate
Teacher training completion certificate
Online course completion certificate
Share Your Certificate of Attendance On Social Media
Earning a certificate of achievement is a noteworthy milestone for students and professionals alike. When you take the time to reward someone with a certificate, you're showing that you care about their accomplishments and the efforts they've put forth. 
To help recipients showcase their achievements, we've developed the SimpleCert® Social Media Share function. Once the recipients receives the certificate via email, they will be given a link that they can use to post the certificate to these popular social media platforms:


Design Your Own Certificate of Completion for
Free
!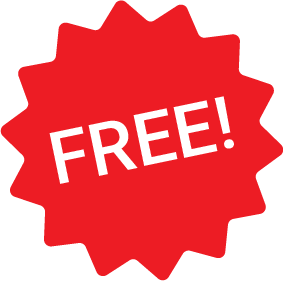 Design Your Real Estate Certificate Right Now for Free!
Get started now with a free SimpleCert® account–no credit card required! You can design, send, print and store 10 certificates of completion absolutely free. Whether you need to send a single certificate or certify your entire company, SimpleCert® has the intuitive tools to make creating certificates easy, fast and fun.