Elevate your business with a Certificate Management Solution
SimpleCert automates your CPE process by creating and distributing continuing education certificates, and providing full reporting on all recipients.
Flexibility. Upload an existing certificate design, or customize any of the available CPE templates available to you.
Scalability. Easily create and distribute any number of certificates while monitoring recipient access and providing needed reporting.
Minimal Overhead, Maximum Efficiency. Use the SimpleCert platform to automate your Certificate Management process, at the right plan and cost to fit your needs.
Trusted by institutions, companies, and organizations worldwide
A simple CPE certificate
creation tool that...

Create your certificate template with SimpleCert®'s free certificate builder.

Upload a recipient list and match the data to your Certificate Template, and instantly send your certificates via a customized email.

SimpleCert® automatically stores every certificate you distribute. View who has accessed their certificates, and even re-send individual certificates as needed.
Automate the creation of your digital certificates with the SimpleCert API
The SimpleCert® API provides endpoints for you to send HTTP requests that will add data automatically to your SimpleCert® account. For example, if you have a website that allows users to take tests and receive a certificate upon completion, your website's code can be built to send test taker information to the SimpleCert® system through the SimpleCert® API. Upon completion of a test the user's data can be automatically sent to SimpleCert® from your site where it is used to create and email a certificate to the test taker.
We've created several sources of information to help you understand how to use the SimpleCert® API. View our API documentation on Apiary or Swagger to learn how to integrate the SimpleCert® API, create new projects, add recipients and more.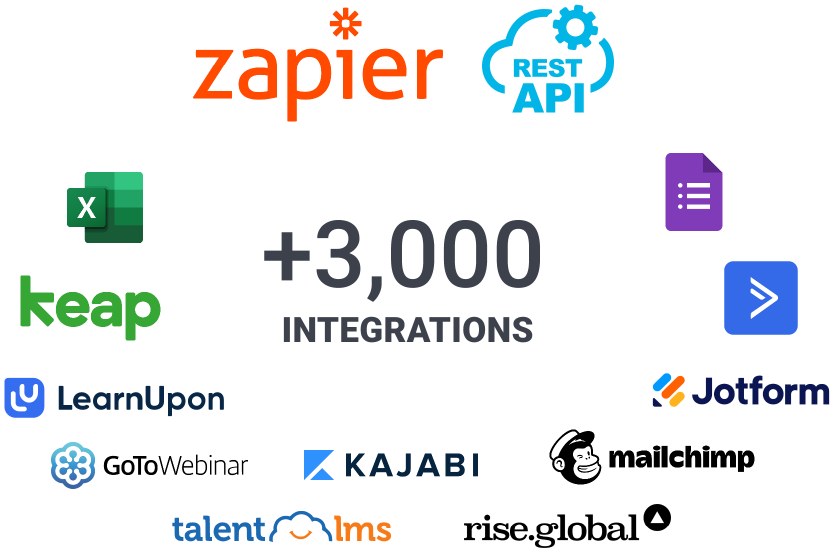 Build your own integrations using the SimpleCert API
Delivering certificates and awards shouldn't be a waiting game tied up in a hassle. SimpleCert streamlines certificate creation, design, and delivery to remove any roadblocks from recipients celebrating their achievements or recognition. To further ease the delivery process, SimpleCert has several Zapier templates in our design studio that function well with a myriad of contact apps.
Choose from one of our simple pricing plans
Try it for FREE Starter Plan