Awards & Certificate Ideas for Real Estate Agents and Real Estate Agencies
Real estate is a tough business where only the strong survive. With nearly 90% of agents failing within the first two years, it is important to recognize those in your real estate agency who rise to the top. Whether you're recognizing your top agents, your up and comers, or the unsung heroes in the real estate office who make the wheels turn, it is important that everyone knows their efforts are appreciated.
In the real estate business, there are many industry awards through associations and industry affiliations. But there are also plenty of opportunities to recognize those on the front lines of your real estate agency and SimpleCert® gives you the tools to do that quickly and easily with a variety of printable certificates for real estate agents and agencies.
Popular Real Estate Award Template Ideas:
SimpleCert® allows for the creation of any type of printable award or certificate with its drag and drop editor, but here are a few great ready-made ideas that will get you started.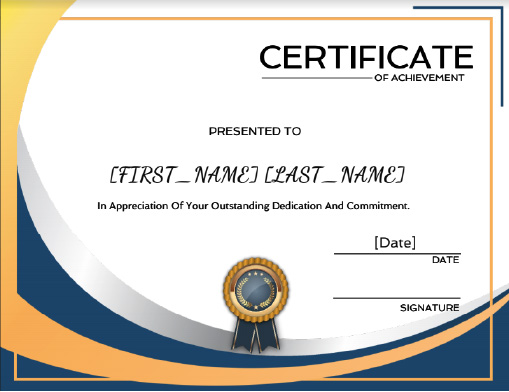 Top Producer Award Template
In the real estate business, it is sales that generate the revenue and the top sellers or top producers in your firm can be highlighted on a weekly, monthly, quarterly, or annual basis.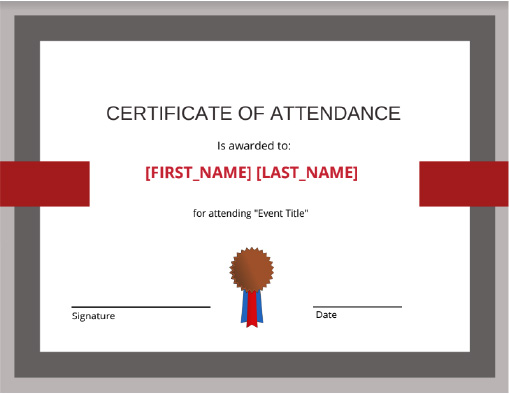 Million Dollar Club Award Template
Selling a million dollars in real estate is an exciting milestone both the first time and each year thereafter. Celebrate those who hit this major milestone with a custom-designed, printable award.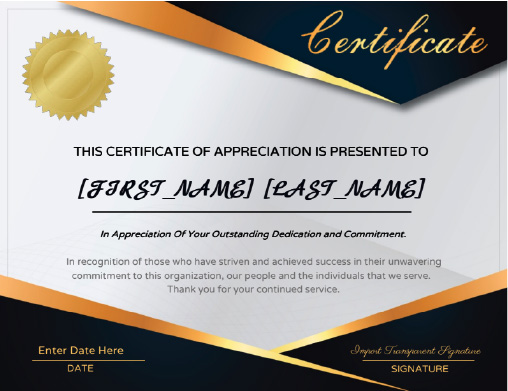 Rookie of the Year Award Template
When breaking into the business is this difficult, it is important to recognize those new agents who are doing it well and really showing promise. Knowing they're on the right track just might give them the fuel needed to help them sustain through the hard days of building their real estate business.
Other Fun & Interesting Real Estate Award Ideas
Beyond those pre-made ideas, with SimpleCert® you can build any type of award or certificate. Whether you're looking to provide a meaningful award that recognizes the positive traits of each agent or employee, or you're looking to create some exciting custom awards that align with the personality of your real estate agency, SimpleCert® is up to the task.

Here are a few great ideas to get you started: 
Above and Beyond Award
Achievement Award
Agent of the Year
Artfully Creative Award
Circle of Excellence Award
Citizenship Award
Five-Star Honors
Helping Hand Award
Highest Sale Volume
Highest Total Sales
Leadership Award
Million Dollar Club
Most Thoughtful Award
Most Trustworthy Award
Outstanding Improvement Award
Peak Performance Award
President's Club Award
Rising Star Award
Safety Award
Top Agent Award
Top Producer Award
Top Seller Award
Teamwork Award 
Contest Ideas of Real Estate Agencies
Awards are great, but they're even better when they're part of a contest. Perhaps pairing your certificate with a cash prize, a vacation, a trip to the ballpark, or another perk to add some extra motivation and value to your promotion. You can easily use SimpleCert® to create a custom award highlighting the prize that the real estate agent or real estate agency staff member won using our custom fields. 
Some fun contest or prize ideas: 
Tickets to a Sporting Event
Tickets to a Concert
Wine Tasting
Dinner Voucher
Gift Cards
Continuing Education 
Design Your Real Estate Certificate Right Now for
Free
!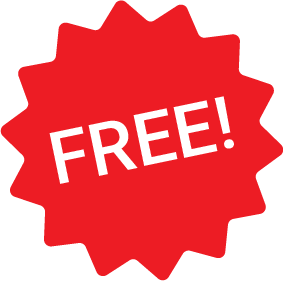 Design Your Real Estate Certificate Right Now for Free!

No matter how you choose to award your agents, SimpleCert® is a valuable resource. Sign-up today to create your first free award template! With SimpleCert®, you can easily create simple one-off awards or you can print certificates for your entire real estate agency with our simple list upload capability. No matter what style of awards or how many you need to create, the SimpleCert® system can make your job quick and easy.