SIMPLECERT® CREDITS & PRICING
Certificate Management System Made Simple
For All Your Business Needs
Pick and choose any combination.
No commitment required.
Find the right plan for you and save big every month!
API Integration
Recipient Portal (excluding Free Plan)
Add to LinkedIn Profile
Upload Custom Font
QR code authentication
Two Sided Certificates
Up to 5 user account logins
Customize recipient Portal
Purchase credits as needed, use them whenever you want
Purchased credits don't expire
Buy separately, or supplement a monthly plan
Available in quantities of 150, 250, 500, 1000 credits
Recipient List upload
API integration
Choose the Monthly Plan That's Right For You
10

1

150

2

250

3

500

4

1,000+

5
group pricing table
Recommended
FREE
10 Credits
Social sharing
API Integration
Custom SMTP settings option
Recommended
BASIC
150 Credits
Everything in Free Plan
Recipient Portal
Add LinkedIn Profile (pre-filled)
Recommended
ADVANCED
250 Credits
Everything in Basic Monthly
Custom Font
QR Code Authenticity
Recommended
PROFESSIONAL
500 Credits
Everything in Professional Monthly
2-Sided Certificates
Up to 5 Logins
Recommended
ENTERPRISE
1000 Credits
Everything in Enterprise Monthly
Customize Portal
& more *coming soon*
Don't spring for more than you need
If you're a seasonal sender, pay-as-you-go might be the right fit for you. Buy exactly what you want, only pay for what you use. No contracts – just simple, straightforward purchasing that fits your budget!
Monthly plan customers can also buy extra credits at any time without having to upgrade their plan. Perfect for those times when you need just a few more certificates.
Credits are available to buy in quantities of 150 ($24.00), 250 ($34.00), 500 ($59.00), 1000 ($99.00) and they don't expire!
Flexibility has it's benefits.
Find the best way to purchase
SimpleCert® for your needs
Free
10 Credits Start Free
Basic
150 Credits
Start Free
Advanced
250 Credits Start Free
Professional
500 CreditsStart Free
Enterprise
1000 CreditsStart Free

Recipient List Upload

Custom Email Options

API Integration

Social Sharing

Buy Additonal Credits

Recipient Portal

Add to Linkedin Profile

Upload Custom Fonts

QR Code Authentication

Two-Sided Certificates

Up to 5 account logins

Custom Recipient Portal
Credits are the currency of SimpleCert and are used to save a personalized certificate. One Credit will allow you to create one certificate. Our free plan will give you 10 free credits per month. There is no cost to download, print or send certificates from your account.
If I just purchase Credits, do they ever expire?
No. When you purchase credits, they will live in your account until you use them up. Credits can be purchased whenever needed, and can also be purchased on top of a Monthly Account subscription.
What's a Certificate template?
Certificate Templates (What we call a Cert Set) are certificate and emails designs that you first create within your account. Your account will allow you to create one Cert Set (certificate and notification email) in your account. When you are ready to create and distribute actual certificates, you will do so using the templates you have designed.
If I need more template designs, what can I do?
You can easily purchase additional templates (Cert Sets) to use in your account, from within the Build Module. Additional templates can be purchased for a one time cost of $29 per template, and are then available for you to use for the life of your account. Keep in mind you should only need to purchase additional Cert Sets if there are graphical differences between your template designs. You can use merge variables to account for any textual differences between certificates, without needing to purchase additional templates. 
Yes! You are free to cancel, upgrade or downgrade your account at anytime from within the Admin settings of your account.
Can I purchase Credits on top of a monthly account?
Yes! Purchasing Credits on top of a Monthly Account is often the best way to accommodate months when you may need to send more certificates than your monthly level allows. Credits do not expire, and will live in your account until you need to use them. This helps to ensure you are not overspending on credits, and are able to work though peak busy months without having to change your actual subscription level.
Does it cost anything to email or print certificates from my account?
No. When you are creating certificates for your recipients, your ONLY cost will be for the credits used to create those certificates. There is no cost to email or print certificates. You can even resend certificate emails to individuals from your account as much as you need, at no cost.
For how long are the certificates active?
Certificates that you create are active and available forever, unless you decide to place an expiration date on them, or delete them from your account.
Do monthly credits rollover?
The credits are replenished when the monthly subscription gets renewed. So on the subscription renewal date you again have the allotted credits for the month.
Can I use my own SMTP server to send emails?
Yes, you can use your own SMTP server. We use OAuth 2.0 protocol for authentication and authorization with Google and Microsoft accounts. You can also connect with other accounts using TLS 2.0 secruity, if needed.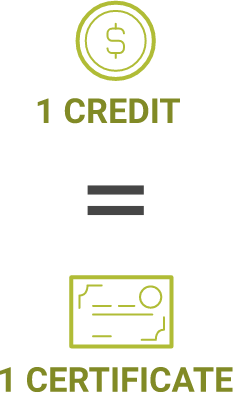 It's easy to get started.
Create a FREE account now!
GET 10 FREE CREDITS WHEN YOU SIGN UP TODAY!