Happy Thanksgiving to the SimpleCert® community! You will remember in our Sept 14 blog that this fall has seen many updates to how users can design and complete certificate templates from within the Build Module of SimpleCert®. Please do be sure to read thru the past blogs to stay up to stay informed of these improvements – and we're not done with updates just yet! Our thanks as always go to many of you who have sent us your ideas and suggestions, on how to make SimpleCert® work better for you.
One great update is the ability for you to contact SimpleCert® support from directly within the tool itself. Let's say for example you are building a Diploma Certificate and need help with a merge variable item; or perhaps as part of your certificate template you have an unusual design that you need help with. Instead of exiting the tool and going back to the website to contact support, it's now easy to click on the "Contact Support" link directly on the top right side of the tool. Regardless of where you are in the tool, the "Contact Support" link will always be right there and available to you.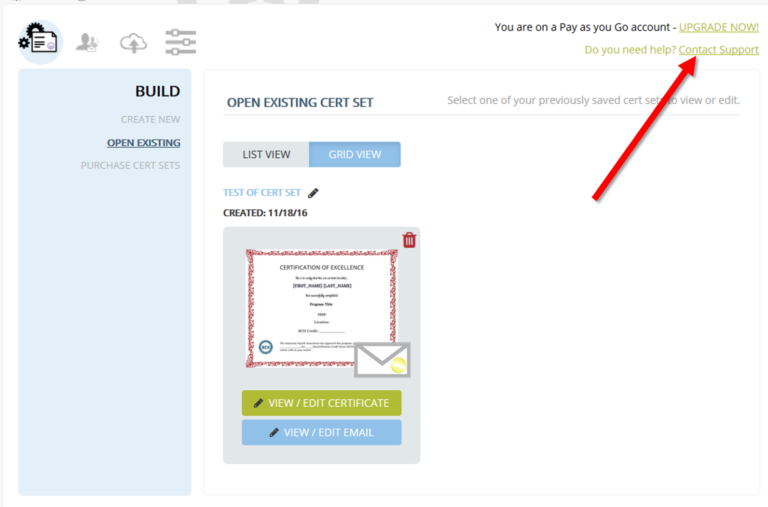 In the end our goal is to make the creation of your certificate template, and the distribution of your certificates, as easy as possible. Whether you are taking a blank certificate and using that as the basis for your certificate template, or utilizing one of the many templates that are automatically available for you from within the tool, we understand you have better things to do than to spend hours upon hours managing your certificate distribution program! So use SimpleCert®, keep the feedback coming, and get on with more important items in your life!
Happy Thanksgiving everyone!
The SimpleCert® Team