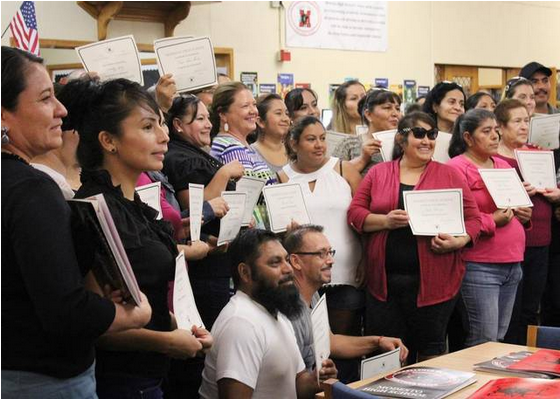 Here at SimpleCert® HQ, we always have an interest in hearing of creative ways people use SimpleCert®, and how certificates and awards in general are used to enrich and acknowledge others. If you have a unique certificate or reason for using SimpleCert®, we'd love to hear about it! Shoot us an email at inquiries@simplecert.co, and if it's a great example we'll feature you and your story in our blog!
Full Disclosure: This story below has NOTHING to do about SimpleCert® – But When we saw it we thought it was such a great story that we wanted to share it with you.
Recently, at Modesto High in Modesto California, 45 parents completed a 4-week computer skills program, and for completing this program they received both a certificate of completion as well as a computer! You can read the full story here. The 4 week classes were taught as part of the schools "Learn to Earn" program, and were taught in Spanish, which is the home language of more than half of all Modesto High School Students. This is such a great story of a school working to better the lives of not only their students, but of the community as well. Great job Modesto High! Recognition and appreciation is also due to Scott's 2nd Chance Computers and to Modesto, for refurbishing and donating the computers to the parents who completed the class. Thank you for working to make our world that much more connected, and improved!
As we mentioned in our past few blogs we've been busy all this fall with rolling out updates and feature enhancements to SimpleCert®. From revising how you create your certificate templates, to increasing the abilities of what SimpleCert® can do for you we've been busy and have many more exciting updates to announce. Plan to check back next week for another blog to highlight the newest updates!
Lastly, for anyone at Modesto High: If you could ever use SimpleCert® to help manage and distribute certificates, we'd love to support you – on us – however we can. It's the least we can do to help and acknowledge the positive impact you are having to your community. Please do let us know!
The SimpleCert® Team