This year we have new webinar certificate templates we're giving away for free. These designs vary from templates companies use to templates that online schools need. More people are attending webinars. But they do not attend just any webinar. Give them the incentive to attend yours by offering a webinar certificate as proof of their growth from your expertise. 
If you're an organization conducting webinars as part of your teaching and training programs, these templates are for you. Below are our top 12 free webinar certificate templates you can use when signing up for free. By signing up for free, you can access SimpleCert®'s tools to streamline and automate your webinar Certificate Management Program. Let's begin. 
Webinar Certificates Increase Participants
Webinar certificates of completion can increase the perceived value of your webinar series. Over time, this can increase attendance, and even boost leads and sales that come directly from your webinar campaign. By creating a webinar certification program, or by offering Continuing Education credits as part of an alliance with a governing organization, companies can greatly incentivize people to attend, and participate in their webinars. 
Providing certifications to attendees as proof of completion gives more authoritative value to your webinar. It provides an attendee proof of their achievement from learning from your expertise.
Don't Just Create a Webinar Certificate, Create YOUR Webinar Certificate
Your webinar Certificate of Completion is an extension of your organization. Just like a company website or logo, it's design is also part of your marketing presence. It's therefore important to use a professional tool to create, and manage your webinar certificates. Our webinar certificates also allow your recipients to share them on social media. With our Social Share feature, they can proudly show their achievements and promote you simultaneously. 
Therefore, put your best foot forward by creating a webinar certificate with diverse options that suit your organization. SimpleCert®'s templates come in fun, professional, and creative designs, all of which are infinitely customizable. See our certificate examples to check them out. 
Have an existing Certificate design, or already use an existing template as part of an established process?  Easily upload your existing template into your account.
When you use SimpleCert®, here are some benefits you'll recognize:
SimpleCert
®
: Create Professional Webinar Certificates with Free Templates
Creating webinar certificates has never been easier! SimpleCert® is an online Certificate management System. It has an intuitive design to drag-and-drop frames and position content how you see fit. With our
certificate maker
, you can choose from free certificate templates from our professional designers, or upload your existing template directly into your account.
Build your webinar certificates with our professionally-designed templates.
Upload a recipient list to automatically send them their certificate.
Manage and track who has accessed their certificates. You can even edit, and re-send certificates as needed.
The Best Webinar Certificate Templates for 2023
Here are our best templates you can edit, send and store for free! We have sophisticated designs for formal business cultures. We also have fun designs for kids as part of their rewards and accomplishments. Scroll below to learn which template previews are best for your webinar today. You can use them to make awards or achievement certificates. You can make completion certificates from the templates if you are giving a training webinar.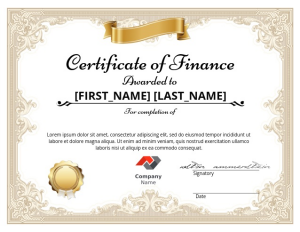 Commonly a certificate of finance, this template is also the equivalent of a gold medal!
What we love about this template is its golden filigree. Golden filigree is often associated with luxury, elegance, and fine craftsmanship and is a popular choice for high-end jewelry and decorative items.
This template is ideal for making participants feel like they got a premium achievement.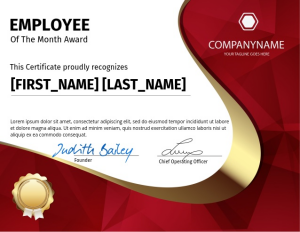 Red and Gold Never Get Old
Its red-and-gold combination brings to mind the red carpet and Oscars. Elegant in gilded measures, it brings out the sophistication of an organization, as well as people who stand above the rest. After all, red and gold are the undisputed colors of victory.
Included with a bold font, an appreciative audience can see their name and recognition as the receiver holds it up proudly from the stage.
If your company values boldness and dedication, this award certificate acknowledges those from your participants.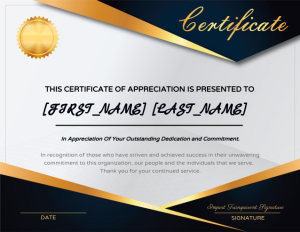 A Show of Sophisticated Professionalism
Navy blue, which is almost black, brings out the sheen of gold, whether printed or digital. Navy blue can represent loyalty, trustworthiness, and integrity. It can also be associated with intelligence, wisdom, and confidence. Partnered with gold's cultural meaning of power, success, and good fortune, this template acknowledges the high points of professionals in the form of a certificate of appreciation.
The font for the first and last name also gives the receiver a handwritten quality that feels more personalized.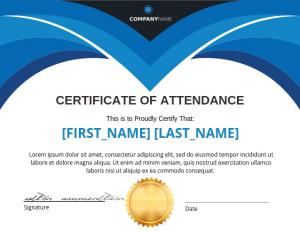 The header image is a symmetrical frame that guides the eyes to the center of importance. The shades of blue add a 3D depth to its design, folding inwards as an arrow.
This template is clean and straightforward. The font color for their name matches the header image, contrasting the gold foil to stand out. It can be used for certificates of attendance to acknowledge their participation in an event.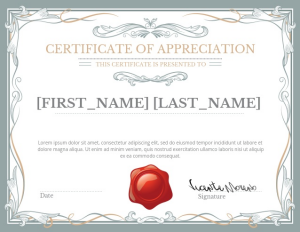 Its subdued colors and filigree vines speak of an achievement's quiet significance. The small bronze details are a delicate design that brings out the dominant color of light green. The font for the first and last name is wide and enlarged to show ownership of the certificate. You can even imprint on its wax seal to officiate your certificate.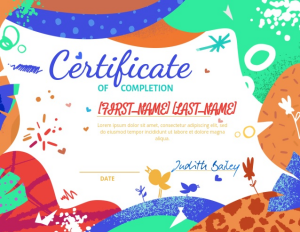 This eye-catching template frames the certificate in a splash of colors. Its whimsical design brings to mind fun and high-energy memories. It is not just colorful, each shape and color are patterned and textured, allowing the eye to appreciate the art longer.
This template is best for sports fests and other school events. Its certificate design and colors are bright and splashy for kids to appreciate.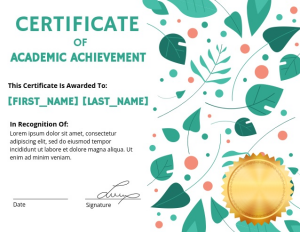 A vibrant green made more eye-catching with a contrasting orange, this template is best for high school and college events.
Green represents growth, and even prosperity, and good fortune. Orange is a vibrant and energetic color associated with creativity, enthusiasm, and optimism. It also represents socialization, excitement, and positivity.
Fun and tasteful, young people can proudly accept their certificates confirming their academic achievements.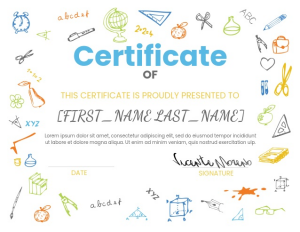 This school-themed webinar certificate template is best for kids and teacher-related events. The frame design is simple but colorful, reminding people of school memories and doodles made with colorful pens. The font for the first and last name is a loving reference to the calligraphy letters taught at school.
With the rise of online learning today, this certificate template is an excellent way to acknowledge their hard work. It is also a tangible reminder of the skills and knowledge gained through the webinar and can be used to enhance resumes and portfolios.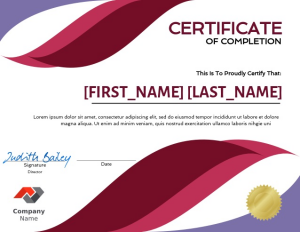 Not-Your-Usual Certificate Template
The slanted design of this webinar certificate template stands above the traditional ones. The garnet and punch colors give a soft slanting curve that directs the eye to the template's form. The periwinkle colors in the corners bring out the dominant red shades of both the frame and forms.
The fonts for the first and last names are wide and capitalized. They are of the same color as garnet to catch the eye.
This template is perfect for those wanting a unique certificate than the usually centered template layout.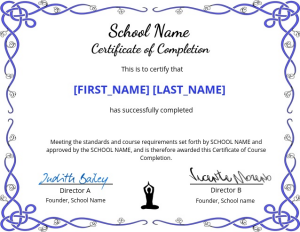 Simple is sometimes the best. The vines represent the growth and progress of the receiver upon receiving their certificate.
The webinar certificate template's periwinkle blue frame complements the webinar's bright blue font and the receiver's name against the white background. You can even change the logo in the middle to the spirit of your webinar.
This webinar certificate template is versatile and can be used for any webinar training.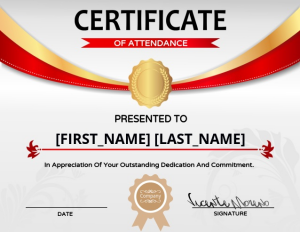 If you want the receiver to feel like they're being given a golden medal, this webinar certificate template is for you.
A gold medal is often seen as a symbol of excellence, achievement, and success. It is usually awarded to individuals who have demonstrated exceptional performance, talent, or skill in a particular field, such as sports, academics, or the arts.
The color gold is often associated with wealth, prestige, and prosperity. It is also a symbol of victory, as gold has been used to reward winners since ancient times. In many cultures, gold is considered a precious metal often used to represent the highest accomplishment.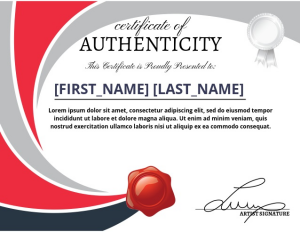 This webinar certificate template intrigues the eyes because it uses the golden ratio. It is found in nature, art, architecture, and design and is often considered aesthetically pleasing and harmonious.
The framing directs the eye to the center and the certificate's wax seal, which you can replace with your organization's logo.
Get Free Designer Webinar Certificate Templates Here
Now that you have browsed our top twelve free webinar certificate templates for 2023, we hope we have inspired you. By creating your certificate from our templates, you can give your attendees a meaningful incentive to attend your webinar. By incorporating a professional certificate of completion into your webinar campaign, you can increase your leads, improve attendance, and drive better results for your company.