Certificate of the Month – January 2019 – Continuing Professional Education Services, LLC (CPES)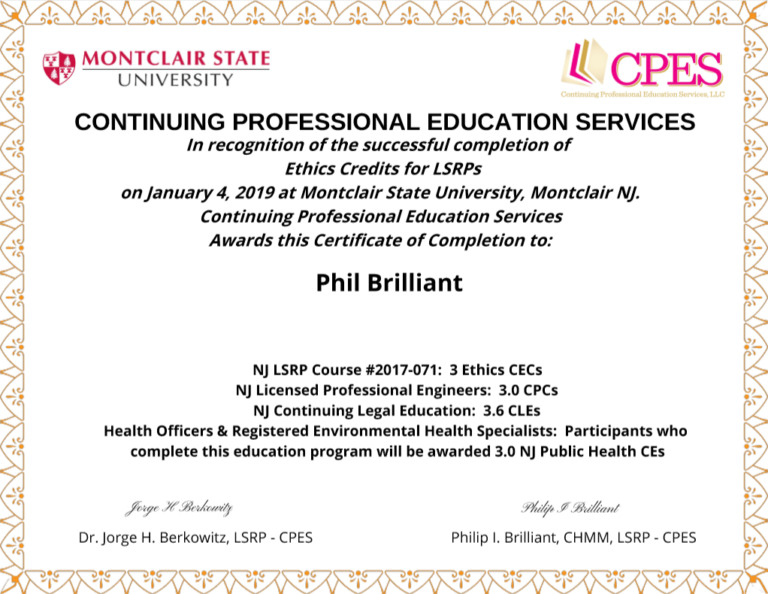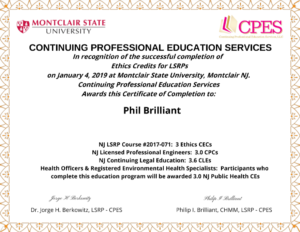 Congratulations to Philip I. Brilliant from the Continuing Professional Education Services, LLC (CPES) for being selected as the next SimpleCert® Certificate of the month winner!
Continuing Professional Education Services, LLC (CPES) is a private company providing continuing education services to licensed and certified professionals in New Jersey and the surrounding region.
Founders Dr. Jorge Berkowitz, LSRP and Philip Brilliant, CHMM, LSRP saw the need for a program offering continuing education courses for their own licenses. Developing CPES on the campus of Montclair State University fulfilled this need. Their programs have now spread to other university campuses in NJ. Industry experts and regulators from across the country teach CPES courses on site remediation, engineering and ethical matters.  CPES uses SimpleCert® to produce and distribute all of their Certificates of Completion to their students following their satisfactory attendance in their courses.
CPES easily reuses their existing Cert Set (Certificate Template and Email Template) to update per project knowing that all previous projects are safely saved "as is". This allows them to update the Course Name, date, and credits through a text field rather than worrying about too many merge fields on their import file. Way to simplify your process! This use case shows that there is no need to buy more Cert Sets when updating textual information. When asked how SimpleCert® helped his organization, Mr. Brilliant replied,
"Not sure what we would do without SimpleCert®!  In the past, we produced each certificate and then emailed out to our attendees that could number 40-50 and this process took hours.  Now, one design, one upload of an email list and push of a button – minutes!  Awesome, effective, time saving service!"
CPES provides educational courses to the professional community who need to satisfy their obligations under State Licensing Programs.  CPES is honored to be recognized by SimpleCert® who makes it possible for Berkowitz and Brilliant to hold courses and provide appropriate documentation of completion.
We proudly showcase the Continuing Professional Education Services, LLC (CPES) certificate of completion template as the winner of the Certificate of the Month Program for January 2019.   By being selected as a certificate of the month winner, Mr. Brilliant will receive 250 SimpleCert® credits in his account.  Thank you, Mr. Brilliant, for utilizing SimpleCert® as your Certificate Management System, and for being a valued member of the SimpleCert® community!