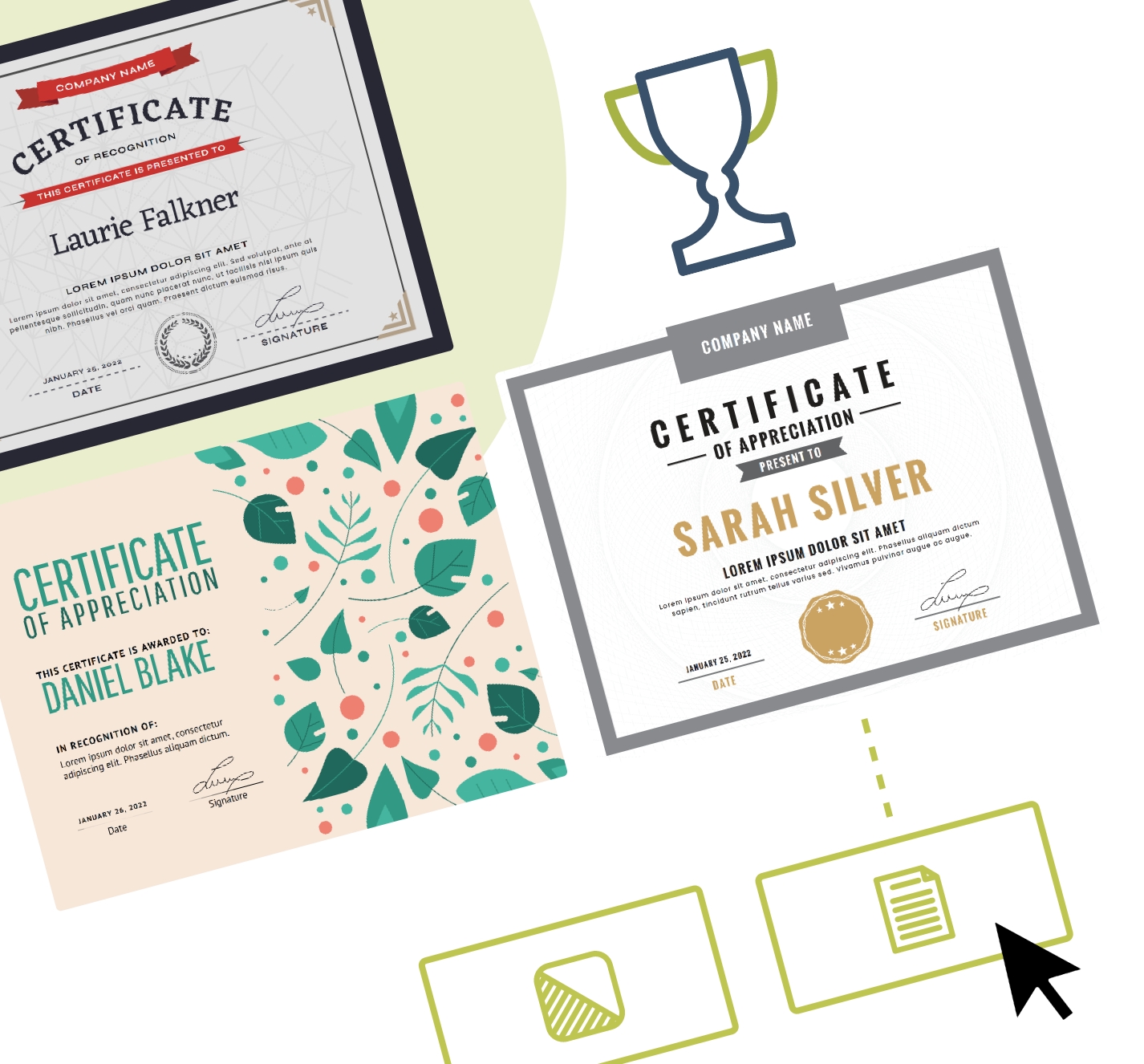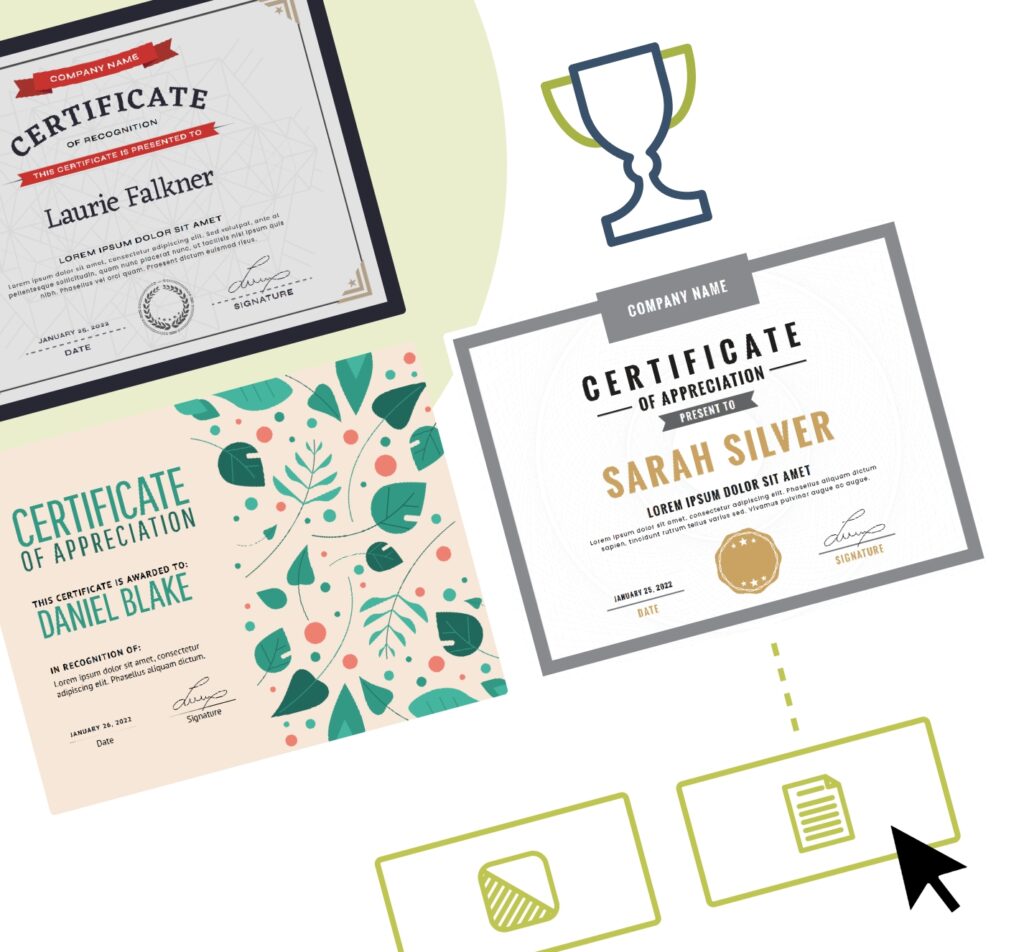 Create Original Certificates for Any Occasion with SimpleCert
Giving out hardwon awards and recognition shouldn't be a chore, nor should the recipients get a generic template that doesn't celebrate their accomplishment.
Try the SimpleCert solution today! 
What are You Recognizing?
SimpleCert has made certificate management simple, bringing the tools for personalized certificates and awards right to your computer. Our Certificate Management System isn't an endless stockpile of premade templates or tools that make designing a unique award impossible.
SimpleCert makes celebration easy by giving you access to templates crafted by professional designers and a simple drag-and-drop certificate maker to create your own unique certificates for any occasion.
Recognizing hard work and acknowledging someone are both important moments for people, but that doesn't mean it should be extra work for you.
Discover celebration made easy with the SimpleCert solution.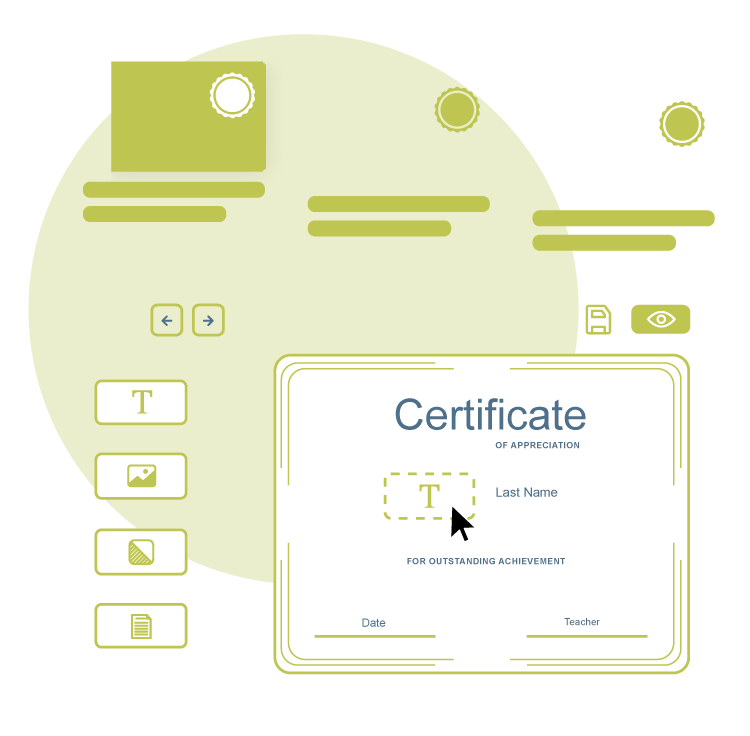 Make Celebration Easy in 4 Steps
Whether you're creating a certificate of completion, professional certification, workplace acknowledgment, or a school award, SimpleCert's template, and certificate maker program is the solution for all certificate giving occasions.
Fill out a few boxes and you get 10 certificates for any occasion on us.
Whether it's a celebrating attendance or creating a training completed certificate, the template library has every design for any occasion filling it. If you're more interested in making the certificate unique to your program or school, then use the simple drag and drop program to make it original.
3.
Delivering Recognition
SimpleCert doesn't just make certificate creation easy, it makes delivering them effortless. We've streamlined recognition from beginning to end. You can upload the list of people who've earned their certificate or connect SimpleCert to your information collection platform.
Our certificate maker connects with a wide range of platforms that are commonly used for online workshops and classes, making it even easier to send out the certificates made.
See what SimpleCert connects with here.
Once you have the certificate just the way you want it and you have the list of recipients loaded, all you have to do is hit send. Everyone who is getting recognized is instantly able to start celebrating their achievement and can even share it on social media as soon as they receive it! They can even print them out to hang up or show when needed. 
There are a lot of ways you can make a certificate and even more templates to choose from. Take a look at some of the printable certificates to get inspired below:
Ready to get started and take some work off your plate? SimpleCert certificate creation makes recognition easy for everyone.
Sign-up today to create your first free certificate!